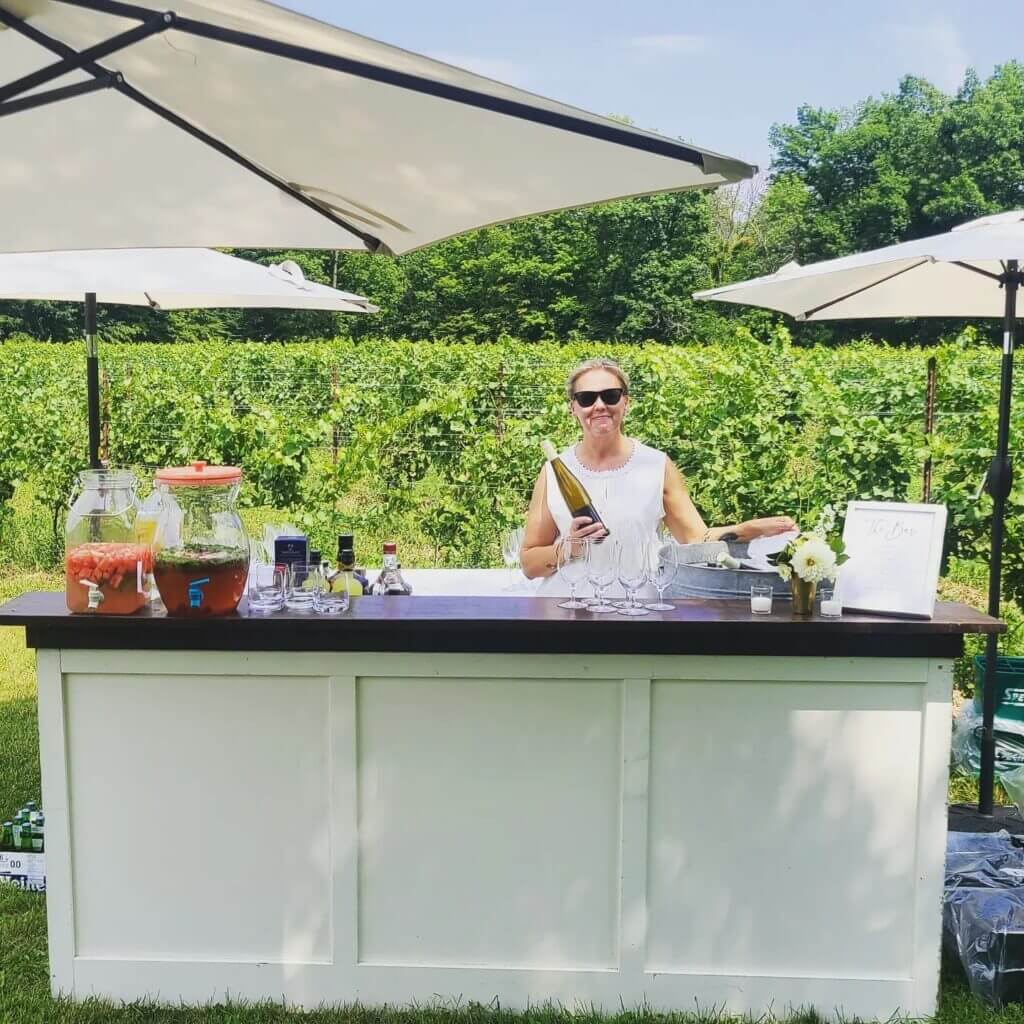 Toronto Bartenders For Weddings Provide:
– Bartenders
– Mixologists
– Event Rentals

What You Should Consider When Booking A Mobile Bartending Service In Toronto
A Banquet Hall or Restaurant Bartender is not the same as a mobile bartender
A "restaurant/bar bartender" and a "event bartender" are very different from one another. Both can prepare margaritas, open wine bottles, and be the life of the party, but event bartenders have more expertise with problem-solving, improvisation, and troubleshooting.
A restaurant or bar's bartender works in a space with a designated bar area, an ice maker, an endless supply of liquor and mixers, and—most importantly—is a part of a structured system that ought to function as smoothly as possible. An event bartender enters an uncharted territory.
Most wedding layouts are uniquely designed based on the needs of the couple. A professional event bartender can locate the venue contact, take a tour of the location, arrange the layout of the bar area, identify key locations like the dumpster, staging area, and ice maker, and obtain any necessary special instructions from the day-of contact.
Every mobile bartending company should have a visually appealing and classy portable bar (not just a folding table with a table cloth). This should be accompanied by all the necessary accessories. The bartender's responsibility is to design a space that is both aesthetically beautiful and useful.
Mobile Bartending companies come prepared with a Plan B when things like this happen:
• Forgot to bring the knife to slice limes? There is no backup kitchen available for borrowing utensils.
For the toast, did you break a case of champagne glasses? There isn't a backup stock closet.
• Unanticipated downpour? Set everything back up and quickly relocate everything underground to prepare for guests.
2. Keeping Your Bar Stocked So That It Doesn't Go Dry
A good bartending company doesn't just supply the insurance, a bartender, and a portable bar; what is the most important for the success of the event is the bar planning that starts months before the wedding. An experienced bartender for hire in Toronto will help you pick out a cocktail & bar menu that fits your budget and tastes, help you figure out if you want to do a traditional toast with champagne glasses or maybe a fun themed shot, help you decide between renting glassware, cocktail tables, and a specialty bar or if that's not in your budget, suggest other alternatives, recommend other reliable vendors, help determine last call, etc.
Full Circle Event Solutions has spent years figuring out how much alcohol, beer, wine, and mixers are needed for various amounts of guests. Our system considers guest count, type of event, hours of service, the activities during the event, and the number of medium and heavy drinkers. We also add a buffer amount of 15% percent, guaranteeing our bartenders do not run out.
3. How many bartenders do you need?
For starters, it is advised to have at least 1 bartender for every 50 guests. The exact number of bartenders required will depend on the answers clients provide to several questions we ask during our first phone conversation. Is money a big factor? Are short bar lines important? Are there any cocktails on the bar menu that require more time to prepare? Usually, clients choose a few signature drinks and if this is the case, they would need between 2 to 3 bartenders for every 100 guests. However, every event is unique, and we customize our service to your unique needs.
4. With Alcohol Comes Liability
Your alcohol expense can be a large part of your wedding budget. As a result, you may think it advantageous to save some money by having friends and family members bartend. This is never a good idea. Hiring an unlicensed bartender can spell disaster.
You need to make sure your bartender has a smart serve license and is TIPS Certified (which teaches you how to identify if someone has had too much to drink and how to deal with them effectively if they become intoxicated).
You are hosting the biggest day of your life with your most beloved guests. Is your "friend bartender" going to stay sober? Are they comfortable and professional enough to cut off their own family and friends to prevent them from being overserved? Professional bartenders have the power to actually save lives.
If the bartender does not carry liability insurance and something were to happen, everyone involved could be sued (including you and your spouse), which is why venues require outside vendors to carry liability insurance
5. What Should Couples Budget for Their Alcohol and Bartender?
Including liquor liability insurance, a basic mobile bar setup, bartender, mixers, and alcohol, you are looking at a starting price of $40-45/per person, depending on the tier of alcohol you choose. (This estimate does not apply to venues that provide their in-house bartending services).